A Round-up of the Kreaverse
Within the world of Kreaverse, imagination soars to new heights, and the boundaries of creativity simply dissolve. This dynamic realm is a fertile ground where innovative initiatives burst forth with unrelenting vigour, week after week. This indomitable spirit not only ignites inspiration but also serves as the driving force behind our entire community, propelling us all to deliver nothing less than our very best.
Faculty members lead the charge, orchestrating cultural festivals to champion various causes or crafting impactful papers that etch a lasting legacy. Students, in their pursuit of excellence, leave no stone unturned. Among the many fruits of this collective labour is the much-anticipated TedxKrea University event, one of the biggest student-led initiatives in Krea's history, poised to grace our campus this Sunday.
Meanwhile, the spotlight of this week is on the Gender 360° festival by LEAD at Krea University, an insightful three-day multimedia exploration happening at our Sri City campus. Within the Kreaverse, our creative universe, a vibrant platform awaits, fostering constructive conversations, incisive discussions, and so much more.
And this is merely the tip of the iceberg. Stay in the loop by following our social media handles, and if you have exciting news to share with the Krea community, we're all ears at all.commsteam@krea.edu.in.
Arthasabha, the Finance Committee of IFMR GSB, Krea University, envisions catalysing financial excellence in future finance leaders, empowering them to make informed decisions and create value.
Their mission is to educate and empower students in financial literacy, analytical skills, and decision-making, fostering a community of dedicated finance enthusiasts. They aim to become a leading Finance Committee among MBA colleges by increasing participation, promoting diverse ideas, hosting events and competitions, and enhancing visibility within the finance community.
On Krea's social media platforms, in the coming week, we will give you a glimpse of the significant work done by Arthasabha Committee over the recent months.
A Multi-media Exploration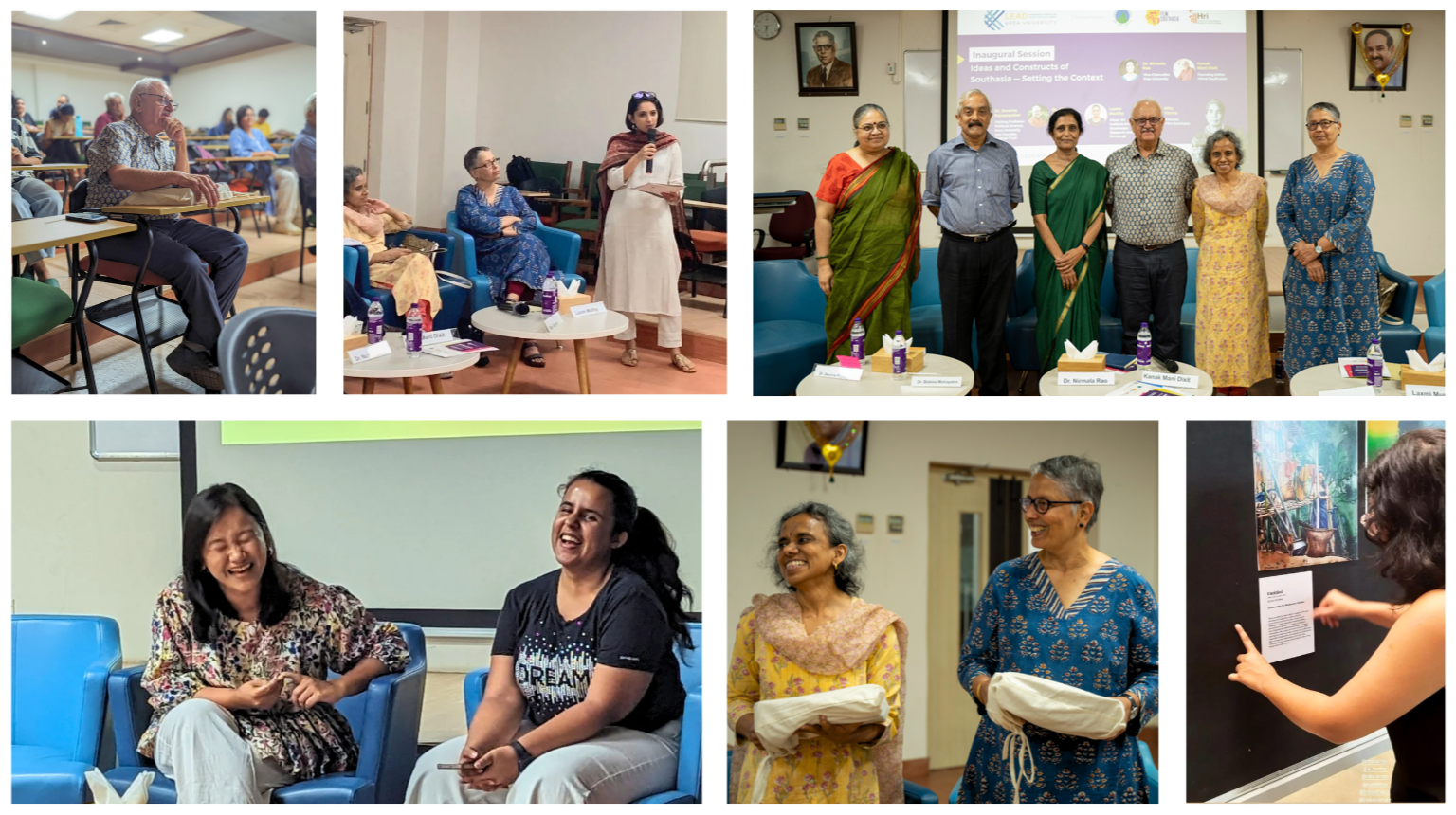 Gender 360° commenced with an impactful inaugural session, setting the stage for the three-day multimedia exploration at Krea University. It brought together a distinguished panel of senior specialists from the gender, policy, and media space, who unpacked nuanced ideas on gender, power and identity in South Asia. The conversation blended academic exploration, touched upon cinematic appreciation, and allowed contemplation on the region's complexities.
Professor Nirmala Rao, Vice Chancellor, Krea University spoke about how this event highlights the deep issues of gender based inequality and violence in South Asia and how it is going to be discussed throughout the presentation of various documentaries. She also spoke about the intertwining of sociological and economic factors within these circumstances and how it might shape up a public opinion which requires change. She was proud of Krea for diving into this realm of human dignity and for organising this film festival, which is a milestone achievement for a topic that needs to be talked about.
Film Southasia curated a group of compelling films for Day 1. The day wrapped up with a Fireside Chat with Prasuna Dongol, a filmmaker. Attendees could engage directly with Prasuna and gained deeper insights into the filmmaking processes, personal stories and the socio-cultural contexts that inspired her documentary. Additionally, those on campus also interacted with an art exhibit at the Atrium that provides a visual depiction of the underlying structural causes of sexual violence against women in four South Asian countries.
Kanak Mani Dixit, the visionary behind the Film Southasia festival, astutely pointed out that documentaries provide a form of hyper-reality that is often overlooked. He underscored the importance of rediscovering the potency of non-fiction storytelling, and a film festival serves as an ideal platform to rejuvenate this narrative medium. Through his endeavours, Dixit aims to resurrect lost ideas and aims to give meaning to the term 'Southasia.'
Have you been following Gender 360°?
Explore the agenda for the next two days here. Students are encouraged to attend and share their thoughts, takeaways on social media by using the hashtag #Gender360. Stay tuned for more updates and sign up for the workshop on Day 3 (limited seats available!)
📆 Date: 14 - 16 September, 2023
📍 Location: Krea University, Sri City
Conversations that Matter

Khirki Conversations have been conceived and curated by Prof Bishnu Mohapatra, Director of the Moturi Satyanarayana Centre for Advanced Study and Professor of Politics at Krea University. This initiative aims to serve as a space for discussing ideas — both significant and subtle, pressing and emerging — across various academic disciplines and modes of thought. Over time, Khirki Conversations may evolve into a platform for experimental thinking and articulation, fostering a culture of everyday critique.
| | |
| --- | --- |
| The theme of the inaugural conversation is The Observer, The Observed, The Observation, which will take place on 20 September at 5.00 pm in the Atrium on the Krea campus. A young artist has crafted a motif for Khirki Conversations, with contributions from some of the Krea members. This artwork will be unveiled during the event. | |
A One-of-a-Kind Conference

As you all know, TEDxKrea University, one of the biggest student-led events in the history of Krea, featuring five impactful speakers, is scheduled to be held on 17 September at Seminar Hall 1 from 3 pm onwards. The theme for this year's event is Dent the Universe. This concept serves as a metaphorical representation of our collective ability to create significant, lasting change.
It urges us to imagine a future where our ideas, actions, and innovations have a tangible impact on the world around us. By embracing this theme, we challenge ourselves to go beyond what is considered possible and dare to dream big. Here's wishing the team the best.
Textures of Traditions, an arts festival spanning over two days, offers an exploration of our cultures by showcasing the myriad styles and narratives that define them. Curated by Dr Swarnamalya Ganesh, a Faculty member of Global Arts, SIAS, Krea University and a Bharatanatyam artiste, this event features a blend of performances, art forms, and exhibitions across various mediums. It is scheduled to take place over the weekend at Kraft Retail Dining, Chennai on 16 and 17 September, from 9:00 am to 9:00 pm.
A Celebration of Ceramics

In order to celebrate the extraordinary work of Ray Meeker, a renowned ceramic artist, Krea University held an interactive screening of Meeker's Agni Jata (1989) in classroom 2-D. The film screening was presided over by Kaveri Bharath, Visiting Faculty for Ceramics, SIAS, Krea University and a close companion of Meeker herself Attended by students and faculty across the two schools, the screening entailed much more than just watching the short film. Kaveri Bharath gave the attendees insight into the life of Ray Meeker and stated how Meeker, an American by birth, was a former Architecture student from the University of South California who realised that ceramics was his true calling.
| | |
| --- | --- |
| | In order to do justice to his pursuits, he conceptualised his passion projects in Pondicherry, India with his better half Late Deborah Smith. Meeker's Agni Jata (meaning 'Born of Fire') by Auroville Video Productions, made the audience encounter his fascinating and intricate artistry in its full bloom. His fiery passion to carve excellent pieces of art through mere clay and manual techniques was beautifully encapsulated throughout the film. Lastly, Kaveri Bharath lauded the audience's active engagement with the film and shared some of her past experiences with Meeker, and how even now, he's still passionate as ever about the art of ceramics. |
| | |
| --- | --- |
| A solely student-run journal, the Journal of Interwoven Arts and Sciences has just opened up submissions for its first ever issue. Its purpose is to provide a platform for SIAS undergraduate students to submit their academic work. With the editorial team in the process of being trained, the entire forum is gearing up to receive their peers' contributions. If being a published author interests you, this is the avenue for you! For the pilot issue that will be published at the end of this calendar year, submissions close on 24 September. You can check the guidelines and submit your work here. | |
Exploring Digital Media Practices

Led by the course instructor Dr Arani Basu, Assistant Professor of Sociology, SIAS, Krea University, students from the course Media and the Public recently conducted fieldwork at Chengambakkam village in Andhra Pradesh. They investigated the digital media practices of the people inhabiting the village through interviews and non-participant observations. This exercise enabled the students to experience a conceptual-empirical interface through fieldwork followed by classroom lectures and discussions.
Of Awareness and Analysis

On 13 September, Dr Sambaiah Gundimeda, Associate Professor of Politics at SIAS, Krea University, delivered a talk titled Who Killed Rohit Vemula? Caste and Suicides in Educational Institutions in India as part of the Krea Psychology lecture series. The aim was to engage the Krea community, including students, staff, and faculty, in a conversation to raise awareness about suicide prevention.
| | |
| --- | --- |
| | Dr Robert K Beshara, Associate Professor and Chair of Arts & Human Sciences at Northern New Mexico College, will present a virtual lecture titled A Critical Introduction to Psychology on 23 September from 8.30 to 10.00 am at Seminar Hall - 2. This lecture is organised as part of the Krea Psychology lecture series. In the lecture, Dr Beshara will delve into the contents of a groundbreaking scholarly book. |
In this work, fifteen critical psychologists systematically analyse chapters from widely used Introduction to Psychology textbooks. Going beyond the confines of mainstream (Euro-American) Psychology, the authors of this edited volume advocate for a pluriversal, transdisciplinary Psychology that welcomes critical perspectives from diverse corners of the world.
| | |
| --- | --- |
| On 12 September, an art therapy session was conducted under the guidance of Aparna Raghavan, in-house counsellor, Krea University. Students were encouraged to express themselves freely, without judgment, allowing their subconscious thoughts and feelings to emerge onto the sheets of paper provided to them. Through this process, students were able to gain insights into their emotions, develop coping mechanisms, and improve their overall mental well-being. | |
Research for Meaningful Change

A case study titled Strategizing the Healing Touch – Ayursparsha, co-authored by — Dr Sathya Saminadan R S, Assistant Professor, Marketing and Prof Chandrasekaran N, Professor - Operations Management, Chairperson - Examinations and Assessments, Area Chair - Operations Management, IFMR GSB, Krea University, and Dr Indira Ananth, freelance professor — has been accepted by the South Asian Journal of Management for publication in Volume 30, Issue No 3, dated July - September 2023.
An Insightful Field Visit
MBA students from IFMR GSB at Krea University, as part of their course on Organizational Theory and Design, led by Dr Pallavi Pandey, Assistant Professor of HR & OB at IFMR GSB, Krea University, visited the Hero Moto Corp (HMCL) site in Sri City on 9 September. Their visit coincided with Electric Vehicles (EV) Day. They witnessed firsthand how HMCL, the world's largest manufacturer of two-wheelers, is leading the way in sustainable mobility through its electric vehicle manufacturing at this state-of-the-art facility. They engaged with the senior leadership team, gaining valuable insights into the business and learnt about the innovative people strategies in play, among other things. Some had the chance to test drive the new EV scooter, Vida, on the track.
| | |
| --- | --- |
| On September 8, a fire drill was conducted at the main academic building on Krea campus from 11:00 to 11:30 am, with the objective of enhancing fire safety awareness and providing basic training. Activities included an evacuation drill and a fire safety briefing with a hands-on fire extinguisher demonstration. Future plans include quarterly fire drills, with a call for active participation and feedback. Acknowledgments were given to participants and security personnel for their involvement in improving fire safety. | |
| | |
| --- | --- |
| | Summer internships may well be over but honestly, internships are opportunities for creating memories and building experiences. The newly launched campaign aims to document the narratives of our Kreators where they candidly recount their first days of stepping into the world of internships, share invaluable insights, open up about their apprehensions and obstacles, and distill the profound lessons they've garnered along the way. |
| | |
| --- | --- |
| With the impending end-of-trimester examinations and submission deadlines swiftly approaching, our Wednesdays for Wellness campaign, for the next few weeks, will provide a series of effective strategies to make academic preparations and life easier for students. The first one in this line-up offers five Thinking Out Loud techniques, designed to level up your recalling and note-taking abilities. | |
Penning Conservation Stories

Dr Rahul Muralidharan, Senior Project Manager, Environment Hub, Krea University authored an article titled Criminalising Traditional Fisheries for Conservation in the Gulf of Mannar recently published in Economic and Political Weekly (EPW) postscript.
If you have time this weekend, please do check these productions and publications from the recent past, give them a listen, watch or read.
Admin office: 196, T.T.K. Road, Alwarpet, Chennai - 600018
Campus: 5655, Central Express Way, Sri City, Andhra Pradesh - 517464